Tuition fees: Irish proposal for students to pay 5,000 euros a year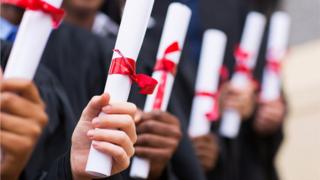 Tuition fees for students in the Republic of Ireland could rise to up to 5,000 euros (£4,260) a year, according to a government report.
That would also involve the introduction of a student loan system similar to that in operation in the UK.
The proposal is made by an expert group on higher education funding, set up by the Department of Education and Skills.
University students in the Republic currently pay 3,000 euros (£2,555) a year in "student contribution" fees.
However, many students from lower income backgrounds do not pay fees.
A total of 760 students from Northern Ireland were enrolled at Irish universities in the 2014-15 academic year, with another 313 taking higher education courses at institutes of technology.
Steep
The report states that the Republic "needs to substantially increase the level of investment in higher education".
It sets out three options for increasing funding:
The government pays substantially more and undergraduate student fees are abolished;
The government pays more and the current 3,000 euros student fee is maintained, but would also require an "immediate and steep increase in state funding" of up to 1bn euros (£850m) a year by 2030;
The government pays more, but all students pay fees of up to 5,000 euros a year.
Under the third option, student loans would be introduced that would have to be repaid when a graduate is employed and earning above a specified salary.
Reform
The expert group was established in 2014 to establish a long-term model for funding higher education in Ireland.
In the foreword to the report, Peter Cassells, the chair of the group, said the current way of funding higher education is "not fit for purpose".
"It is clear that there is a need and a desire for urgent reform of the funding landscape," he said.
The report says the number of students seeking to enter higher education is expected to grow by a third in future years.
However, it points out that Ireland currently lags behind the UK and the Organisation for Economic Co-operation and Development average when it comes to spending on higher education as a proportion of gross domestic product.
The report will now be forwarded to the Dáil's (Irish parliament) education committee for discussion on the way forward.