Enda Kenny: Call made for taoiseach and Fine Gael leader to resign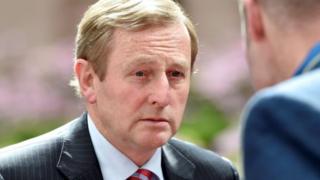 An Irish government backbencher has said his party, Fine Gael, needs a new leader in place by September to avoid a general election in the autumn.
Kerry TD Brendan Griffin has said the party cannot go into the summer without confronting this issue.
His call comes as pressure increases on Taoiseach (Irish Prime Minister) Enda Kenny to indicate when he will step down.
He said the majority of party members "want it dealt with quickly".
Mr Griffin made the comments in a statement to Irish national broadcaster RTÉ.
He claimed a general election would spell the end for Mr Kenny who would try to avoid it at all costs.
The TD said he did not trust opposition party Fianna Fáil not to "manufacture a reason for a general election during budget negotiations, most likely on an issue that would make Fine Gael look as bad as possible."
'Major fears'
Mr Griffin said if his party had to choose a new leader during an election campaign Fine Gael "would be decimated and Fianna Fáil would most likely return to power in large numbers".
"I would have major fears for the progress we have made as a country in recent years in that event," he said.
On Friday, Irish government chief whip Regina Doherty called on Mr Kenny to clarify his intentions on how long he will remain as Fine Gael leader.
Last week, a meeting of Fine Gael TDs and senators also heard calls for the party to begin considering who will lead it if Mr Kenny steps down.
Mr Kenny's leadership was also raised at Fine Gael's parliamentary party by a former junior minister, Fergus O'Dowd.
The Fine Gael leader was re-elected as taoiseach in May, 70 days after a general election which had produced no outright winner. He is the first Fine Gael taoiseach to be re-elected to office after a general election.