Italy mafia arrests linked to Milan Expo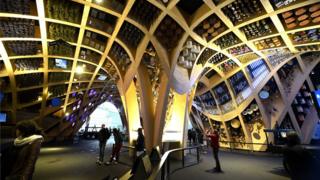 Italian police have arrested 11 people amid allegations that the mafia won contracts in last year's Milan Expo global commercial fair, reports say.
The six-month fair attracted 20 million visitors and prompted a much-needed boost to the local economy.
Investigators believe four pavilions, including those of France, Kuwait and Equatorial Guinea, were targeted.
Those detained are suspected of criminal association, money laundering and tax fraud, reports say.
Even before the Milan Expo opened, city prosecutors arrested senior officials on suspicion of soliciting bribes for contracts to the world trade fair.
A former procurement manager spent weeks in jail in 2014 before being released.
According to Italian media, prosecutors focused their latest allegations on a consortium called Dominus Scarl, which set up some of the more than 50 national pavilions at the fair.
False invoices were used to create slush funds and the money was then moved to Sicily, the Ansa news agency reported.
The suspects are said to have had ties to a notorious Sicilian Cosa Nostra clan, the Pietraperzia "family" from the central town of Enna.
Police have seized some €5m (£4.2m; $5.5m) out of the estimated €20m paid out in contracts to the Dominus Scarl consortium, reports say.
Among those reportedly arrested was Sicilian lawyer Danilo Tipo, who was until recently head of a criminal chamber in the town of Caltanissetta.