Migrant crisis: Interpol names people smuggler suspects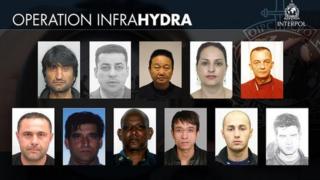 Interpol has appealed for public help to locate 123 suspected human traffickers who are wanted worldwide.
The international crime agency says it is especially keen to trace 11 suspects who smuggled people into Europe.
Operation Hydra involves 44 countries and has made 26 arrests in addition to locating 31 other suspects, Interpol says.
Officials say organised crime networks play a big role in Europe's migrant crisis, earning up to $6bn last year.
Europol, the European Union's police force, is also involved in the hunt for the suspects.
Migrant crisis: 'People-smuggler' says he is wrong man
Migrant crisis: Stability in Libya needed to help stop people smugglers
What a people smuggling deal looks like
The smugglers' route through Hungary
"The criminal networks involved have no regard for the safety or wellbeing of the people using their illegal services," Interpol Operational Support Unit Director Michael O'Connell said in a statement.
"They are just another commodity for them to trade, as we have seen with tragic results around the world.
"Operation Hydra is aimed at dismantling these networks, to stop them from profiting from the desperation of people and bringing those responsible to justice, and we would encourage anyone with information to come forward."
'Global issue'
The 11 people the agency is particularly eager to trace are accused of illegally smuggling Iraqis, Afghans and other migrants into Europe. The accused include:
Kolyo Georgiev Kolev, who is suspected of illegally transporting nine Afghan nationals from Bulgaria into Austria. He is believed to have fled the scene after the van in which they were travelling overturned on a motorway in Hungary, killing two migrants.
Mariana Crucerescu, who has already been convicted of leading a Romanian organised crime group which illegally smuggled people across Hungarian and Austrian border points at a price of up to €3,000 (£2,300; $3,415) per person.
Jan Abdullah, an Afghan, who is accused of setting up an organised crime group to traffic migrants by providing transportation, fake documents and information on how to cross borders illegally
Van Vinh Nguyen, a suspected member of an organised crime network which smuggled and housed Vietnamese nationals in three European countries.
Azerbaijan national Tajeddin Aliyev, the former head of passenger control at the international airport in Baku, who allegedly supplied counterfeit airline tickets.
The crime agency says that those recently arrested include a Moroccan suspected of selling Belgian identity cards to Syrian migrants, and an Albanian group charging migrants €14,000 (£10,720; $15,960) to travel across the English Channel.
Catching people smugglers is especially difficult because victims are rarely able or willing to give details, Mr O'Connell said.
"It is a global issue which is why international co-operation through operations such as Hydra are essential," he said in the statement.
Interpol plans to use social media so the public can be better engaged in the hunt for suspects, while member countries have been asked to circulate mugshot posters.