Joe Biden: Football, family and fan photos as US Vice President visits Mayo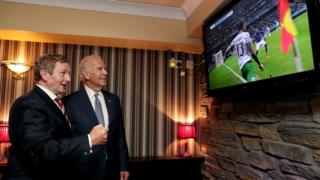 The US Vice President's tour of his ancestral home was briefly interrupted as the Irish prime minister brought him to a pub to watch football.
Joe Biden is on a six-day trip to the Republic of Ireland and spent Wednesday tracing his roots in County Mayo.
His personal tour guide was Taoiseach (Irish Prime Minister) Enda Kenny, who is from Castlebar in County Mayo.
The pair nipped into Coady's Pub in the town to catch some of the Republic of Ireland's Euro 2016 victory over Italy.
The luck of the Irish was with the team in green, as they won the match by one goal to nil.
Mr Kenny was not the only County Mayo resident who pulled out all the stops to give the US guest a warm welcome and an authentic taste of lrish culture.
Wellwishers lined the streets of Ballina on Wednesday, as Mr Biden toured the town that some of his ancestors called home before they emigrated to the US during the Irish famine.
His great-great-great-grandfather, Edward Blewitt, left Ballina in 1851 but many of his distant relatives still live in the area.
Mr Biden met a number of his distant cousins and also posed for selfie photographs with local residents.
He has been accompanied several members of his own immediate family for the trip as the Bidens trace their Irish ancestry.
The trip has both personal and political elements and Mr Biden is due to make a series of speeches on Irish-American relations when he returns to Dublin on Friday.
Speaking about the reception they were given, Mr Biden said: "I've enjoyed my day, my whole family... we have had a wonderful, wonderful time."
He added: "By the way, the Biden's are moving back - I didn't know I had such a good-looking family here."
One of his distant cousins, Clodagh Butler, who is connected to the Blewitt family, said meeting her famous relative was a "really good" experience.
"He seemed like such a lovely man and he had such a good focus on the children as well," she said.
"He was really personable. It was a really great thing to meet him - it was wonderful. We told him that our grandad was his fourth cousin and our mum was upstairs waiting to meet him as well," Ms Butler added.
"He said to us it felt like home for him too."
After Mr Biden's US Air Force plane touched down in Ireland West Airport in Knock, County Mayo, local schoolchildren were brought out of their classes to greet the US visitor.
In Castlebar, young musicians performed traditional Irish music on the streets, in honour of the vice president.
Mr Biden also traces a branch of his mother's family to County Louth and is expected to travel there on the Saturday, the penultimate day of his visit.