Spain driver caught using doll in Madrid car-share con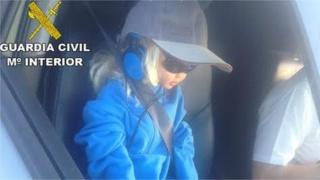 Spain's civil guard force has caught a driver travelling in the high-occupancy lane of a busy road near Madrid, accompanied only by a child-sized doll.
Officers' suspicions were heightened by the diminutive figure wearing a fleece in hot weather, Spanish media report.
On closer inspection the "passenger" was also wearing sunglasses, headphones and a rather large baseball cap.
Car-share or carpool lanes have been introduced in some cities to prioritise vehicles with two or more people.
The aim is to reduce congestion by encouraging people to travel together rather than driving separately.
The incident took place during the morning rush hour on the A6 motorway last Thursday, El Pais reports.
The driver was stopped "to explain his strange companion," the force said.
The driver was fined €200 (£153; $226), the paper says. Another driver was caught on the same road with an adult-sized doll complete with wig and sunglasses, it adds.
The city in love with cars even though its air is toxic
Sir Cliff Richard doll helps Norfolk couple feel safe in car