Euro 2016: Russia fan leader Shprygin expelled from France again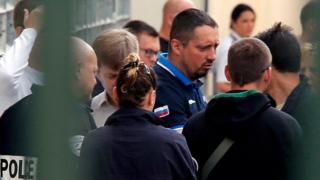 The French authorities have expelled controversial Russia fan leader Alexander Shprygin for a second time.
He was put on a flight from Paris to Moscow on Tuesday evening, the French interior ministry said.
Mr Shprygin had previously been expelled on Saturday, a week after fan violence marred Russia's Euro 2016 match with England.
But he returned overland via Spain, and was arrested at the Russia-Wales match in Toulouse on Monday.
He is reported to hold far-right views and his All-Russia Supporters' Union is backed by the Kremlin.
Mr Shprygin said four other Russians among those expelled on Saturday had also managed to get back into France for the match against Wales.
Investigators believe he flew to Barcelona and crossed the border by car to travel to the French city of Toulouse, where Russia lost 3-0 to Wales.
The Russian football team are also going home, having failed to go through to the knockout phase with only one point in the group stage.