EU referendum: Key quotes from non-UK figures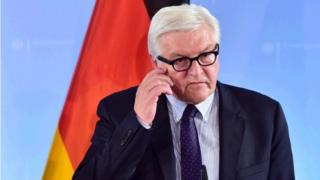 Key quotes from high-profile European and other figures on Britain's EU referendum between 15 and 21 June, as compiled by BBC Monitoring.
EU
President of the European Commission Jean-Claude Juncker
"I don't think that the European Union will be in danger of death if Britain leaves, because we are continuing the process of closer cooperation in Europe". (Speaking at economic forum in Saint Petersburg, 16 June - reported by France's Le Telegramme)
European Council President Donald Tusk
"I appeal to the British citizens: Stay with us. We need you. Together we will cope with future challenges. Apart it will be more difficult. Whatever the UK vote is, we must take long hard look on the future of the Union. Would be foolish to ignore such a warning signal." (Donald Tusk's Twitter account, 20 June)
GERMANY
Chancellor Angela Merkel
"If Britain votes to leave the EU, it will no longer be able to benefit from the advantages of the European common market. And any negotiation will involve the 27 remaining EU members with someone who would then be a third party. I can't imagine that would be any kind of advantage, but the decision is ultimately up to the British". (At Berlin news conference in Berlin with Slovak Prime Minister Robert Fico, 16 June, reported by Deutsche Welle)
Foreign Minister Frank-Walter Steinmeier
"It would be a shock for the EU that would require mutual assurances that the EU continues to stick together and that a very successful decades-long process of integration doesn't end in disintegration... Europe would lose a great deal if Great Britain decided to leave." (At Brandenburg news conference with French counterpart Jean-Marc Ayrault, 15 June, reported by Focus website)
Manfred Weber, head of the European People's Party Group in the European Parliament
"The rules are actually quite clear: Whoever leaves is out... The City of London would then no longer be important, as opposed to Frankfurt or Paris." (Interview with ARD TV, 16 June)
Vice-President of the European Parliament Alexander Graf Lambsdorff
"The debates are 99% scaremongering, insults, lies and the distortion of facts - especially by the Leave supporters." (Interview with Die Zeit, 16 June)
OTHERS
Dutch Finance Minister Jeroen Dijsselbloem, who chairs Eurogroup finance minsters' group
"Of course we are concerned, we are following it closely, we are considering possible scenarios... We have the capacity to deal with any shocks that might occur... We hope and trust in the wisdom of the British people, as we always do." (Speaking in Luxembourg at eurozone finance ministers' meeting, 16 June - reported in Luxemburger Wort)
French Economy Minister Emmanuel Macron
"You are in or out... The European Council should give Britain an ultimatum about their intentions, and the president of France will be very clear about that... We cannot, in the interests of the EU, allow any lingering ambiguity or let too much time pass... If Britain wants an access treaty to the European single market, it must contribute to the European budget as do Norway or Switzerland."
(Interview with Le Monde 18 June)
Italian Economy Minister Pier Carlo Padoan
"We must be confident that the British people understand the benefits of remaining in Europe, for themselves and for the other countries." (La Repubblica, 18 June)
Russian President Vladimir Putin
"Russia wants to interact with a strong Europe, because a dialogue with a weak partner is more trouble than it is worth: they can always be pressured by a third party, and all agreements and cooperation plans go down the drain... Will Europe be stronger if Britain votes to leave or to stay? Some experts say that Europe will be more focused, others that it is the first step towards the collapse of the rest of Europe... I believe that we must respect the choice of the British people." (At St Petersburg Economic Forum, 17 June)
Irish Prime Minister Enda Kenny
"The re-establishment of a hard border on the island of Ireland would be a step backwards and presents an opportunity for others, with malign agendas, to exploit for destructive purposes." (Article in The Guardian, 20 June)
Spanish Socialist leader Pedro Sanchez
"This is a crucial decision. The future of the UK, Spain and Europe as a whole is at stake. The EU needs the UK as much as the UK needs the EU. This is a delicate moment for all our countries and all of the European project. Now more than ever we need to stay side by side in order to face united the challenge of globalisation. Let us stay together to become even stronger and move towards a better Europe. We need you, so I ask you this Thursday go and vote for "Remain"." (video on ABC website urging British voters to vote Remain, 21 June)
Hungarian Prime Minister Viktor Orban
"The decision is yours, but I would like you to know that Hungary is proud to stand with you as a member of the European Union." (Adverts to be placed in British newspapers, according to Mr Orban's office)
Polish Foreign Minister Witold Waszczykowski
"I hope that the British will balance the losses and benefits. It will not be just a divorce with Europe, but also an internal problem for Scotland, Wales and Northern Ireland. There are many question marks. This also applies to the problem of international security." (Interview with TVN24, 21 June)
Former Czech Prime Minister Vaclav Klaus
"If we were British... we would vote to leave the EU. And as Czechs, we would really like Britain to leave the EU. [Brexit] would be a further blow, another pin bursting the arrogant nonsense of today's senior European politicians. I think it would be the shock that Europe needs. It needs someone to shake it up… It would be a wake-up call." (Reported by Denik newspaper, 16 June)
Former Romanian President Traian Basescu
"David Cameron has played a good card. There will be no Brexit. Great Britain will not quit the EU for anything in the world because it would lose a lot. Regardless of how Britons vote, and I believe they will vote against [leaving the EU], parliament... [would have to] cancel the laws on accession, and it will never do this." (Romanian TV interview, 20 June)
Outgoing Finnish Finance Minister Alexander Stubb
"Brexit would be a sad and uncertain event, in which localisation beats globalisation". (Reported in Helsingin Sanomat, 16 June)
BBC Monitoring reports and analyses news from TV, radio, web and print media around the world. You can follow BBC Monitoring on Twitter and Facebook.