EU referendum and Brexit: Key quotes from non-UK figures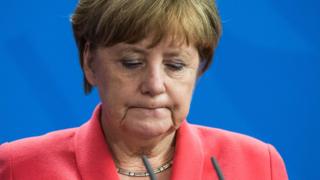 Key quotes from high-profile European and other figures on Britain's EU referendum between 1 and 8 June, as compiled by BBC Monitoring.
EU
European Central Bank President Mario Draghi
"The ECB is ready for any outcome... The ECB has a view that the UK should remain in the EU, because the European Union would benefit from its presence. And we believe the UK would benefit from being in the European Union too." (Speaking at a news conference after an ECB policy meeting in Vienna, via the Guardian, 2 June)
European Commission President Jean-Claude Juncker
"Whenever I've spoken about a Brexit, this was with restraint that one is not actually used to from me. I have little to say, because the European Commission is very unpopular in the United Kingdom. Under these circumstances it was intelligent and right to be as silent as possible."
"Regarding the consequences of a Brexit, I have said that a deserter would not be welcomed with open arms. That is the stance of the commission as well as the attitude of other governments. And of course, it would have implications for voting patterns in other countries which are going in a direction that we do not wish for." (Interview with Der Spiegel, 1 June)
GERMANY
Chancellor Angela Merkel
"Obviously, it is up to the citizens of the UK themselves how they wish to vote in the upcoming referendum. I've said repeatedly before that I personally would hope and wish for the UK to stay part and parcel of the EU."
"We work well together with the UK particularly when we talk about new rules for the EU. We have to develop those together with the UK and whenever we negotiate that, you can much better have an influence on the debate when you sit at the bargaining table and you can give input to those negotiations and the result will then invariably be better rather than being outside of the room."
"It would not only be in our interest but it could also be in the interest of Britain when it can bring its whole political weight to the negotiating table as part and parcel of the EU." (Speaking at joint news conference with Nato Secretary General Jens Stoltenberg in Berlin, 2 June)
German MP Roderich Kiesewetter
"The European Union is very much marked by the French approach. British output-orientated pragmatism is much closer to our approach... [Brexit] would be a success for Russia. It cannot be in Germany's national interest for a British exit to weaken the EU and strengthen Germany." (Member of the German Bundestag's foreign policy committee and Chancellor Angela Merkel's Christian Democrats, speaking to Reuters, 6 June)
Anonymous official
"Everyone will say it is a club of losers. We need a counterweight to France. If the referendum result is negative (Britain votes to leave the EU), then we've got a real problem - it will be massive." (Quoted by Reuters on condition of anonymity about a possible Brexit vote, 6 June)
MEP Alexander Lambsdorff
"A European Union without Germany or France is completely unimaginable, but we already had a European Union without the United Kingdom, right at the beginning. It won't be the end of 'Project Europe', as some are describing it." (Member of the Alliance of Liberals Democrats for Europe (ALDE) and Germany's Free Democrats, in interview with Deutschlandfunk, 5 June)
FRANCE
President Francois Hollande
"We are as united as we have ever been, and I hope the British remember that when the day comes." (speaking about Channel Tunnel during the opening of the Gotthard rail tunnel, via Le Monde, 1 June)
MEP Sylvie Goulard
"We would lose the intrinsic value of Great Britain - its global geopolitical vision, economic common sense and financial and legal know-how." (Member of the Alliance of Liberals Democrats for Europe (ALDE), speaking to Reuters, 6 June)
SPAIN
Prime Minister Mariano Rajoy
"It seems to me that if the United Kingdom leaves the European Union, it would be negative for everybody, for the United Kingdom, for Spain, and for the European Union. But, above all, it would be very negative for British citizens: the European Union is based, ever since its foundation, on the principles of freedom of movement of people, goods, services and capitals."
"Leaving the European Union would mean that British citizens would lose their right to move freely, work and do business within the largest economic area, the largest market in the world." (Speaking to Spanish news agency Efe, via the Guardian, 1 June)
ITALY
Economy Minister Pier Carlo Padoan
"[The EU] would enter into a phase of political uncertainty.... [It would take] at least two years of negotiations to decide how Great Britain frees itself from the EU treaties." (Speaking on Italian TV programme Porta a Porta, via Reuters Italia, 7 June)
POLAND
Prime Minister Beata Szydlo
"We want Great Britain to stay in the EU. That is very important for the union, for its development, as well as from an economic point of view for both our countries." (Speaking at a joint news conference with Estonian Prime Minister Taavi Roivas, via Wiadomosci, 1 June)
BELGIUM
Former Prime Minister Guy Verhofstadt
"The real risk is not (Britain) remaining in the EU, it is a leave vote, which could perpetuate the disintegration of the entire European Union." (Speaking to Reuters, 6 June)
SWEDEN
Anonymous diplomat
"I fear it would be a less open, liberal Europe without the Brits. That would make it harder for us to win the economic arguments." (Speaking to Reuters, 6 June)
HUNGARY
Foreign Minister Peter Szijjarto
"Whatever the outcome of the British referendum, the Hungarian government is committed to EU membership. In other words, there will be no Huxit." (Interview with the weekly news magazine Figyelo, 2 June)
Leading economist Gyorgy Jaksity
"If there is a major player leaving the EU, and Britain is definitely a major player, it does have a long-term effect on the EU in many different ways. In Central Europe I would not exclude any country, sometime in the future, being in a position where a politician says we go out. Longer-term, the consequences for the EU can be quite devastating." (Speaking at the Reuters Eastern Europe Investment Summit, 3 June)
CZECH REPUBLIC
Prime Minister Bohuslav Sobotka
"[A UK exit] would be a signal for separatists and also a certain signal for radical nationalists who have a program of breaking up the EU." (Speaking at the Reuters Eastern European Investment Summit, 3 June)
President Milos Zeman
"I may be horribly wrong, but I contend that the referendum will go in favour of those who want to keep Britain in the EU... [A vote for Brexit] would immediately trigger a fresh referendum in Scotland. This would decide on the country's independence. And the Scots would subsequently join the EU separately." (Speaking to financial daily Hospodarske Noviny, 2 June)
BBC Monitoring reports and analyses news from TV, radio, web and print media around the world. You can follow BBC Monitoring on Twitter and Facebook.