EU referendum: What the European papers say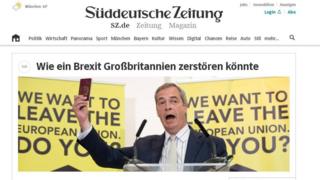 With two weeks to go until Britain's EU referendum, papers across Europe abound with stern warnings about what many seem to think could be a likely Leave vote.
'No more privileges'
"How Brexit could destroy Great Britain," is the stark headline in Germany's Sueddeutsche Zeitung, over a picture of Nigel Farage brandishing a UK passport.
Pointing to the likelihood of a second referendum on Scottish independence, the daily warns that a victorious Leave camp could find themselves in "Little England", instead of "Great Britain, an important nation in the game of world powers".
"Just go!", cries a commentary In Die Welt, arguing that Brexit would be a "salvation" for the bloc.
"The British blame everything that doesn't work at home on Brussels and the continent," it says, and accuses the Leave camp of wanting an "exit light", for instance through continued access to the common market.
"After Brexit, that'll be the end of the privileges," the article warns.
'Irrational'
In Italy's Il Sole 24 Ore, an article compares the UK to a "sleepwalker wandering towards the abyss", towards Brexit, despite what it says are the economic dangers.
"The debate is impervious to the logic of numbers and the evidence of the facts," it believes, and is instead led by a "desire for an irrational call to rebellion to punish the establishment, hit the bankers and curb global dynamics".
In Spain, El Pais says 73% of respondents in a Spanish poll who predict a Remain vote appear to be suffering from "groundless optimism".
But it adds that the same poll suggests an overwhelming majority of Spanish believe Brexit will be bad for the EU and themselves, and concludes: "The British are unsure. The Spaniards are."
French commentator Guillaume Bigot thinks the British have as good as decided to say "No" to the EU, as they have "no reason to dilute their nation state in a 'continental machine'".
"The Union Jack was never lowered before the swastika," he writes in Le Figaro. "The subjects of her Gracious Majesty will never want to replace it with the European flag."
'Dangerous message'
A commentary in Hungary's Nepszabadsag argues that for people in Eastern Europe, Britain's EU referendum offers a choice between "very bad and the even worse" outcomes.
On the one hand, it says, Brexit would cause "huge economic damage" to the region, by limiting migration and trade opportunities, as well as inward investment from the UK.
But a Remain would send a "dangerous message to illiberal Eastern European politicians... such as Hungarian Prime Minister Viktor Orban" that they can reap the economic benefits of being in the EU while still "curbing citizens' rights".
Elsewhere in the Hungarian media, a column on the Index website thinks Brexit is a "leap in the dark" that "has not been thought through properly", and voices particular concern about Hungarian expats in the UK.
A commentary in Czech Reporter Magazin characterises the typical Leave voter as a "conservative Englishman" whose "England as he knew and loved it is disappearing before his eyes", and for whom Brexit is the only way to save it.
"That it will stop immigration from Eastern Europe and the influence of Muslims. That he will finally be able to speak again."
'Status collapse'
In Russia - whose leadership is thought by many to be hoping for a Leave vote, in the belief it will weaken the EU and the wider West - several commentators believe Brexit will not be in the UK's interests.
"London will find it very hard to preserve its status as financial capital of Europe," warns a commentator in liberal Novaya Gazeta, while pro-Kremlin pundit Fyodor Lukyanov writes in Forbes Russia magazine that Brexit will lead to a "collapse of Britain's status, role and opportunities globally".
An article in Moskovsky Komsomolets is not so sure a Brexit scenario will actually be any good for Russia either.
"If the UK leaves the EU, there will be a period of turbulence that Russia will not be able to use to its benefit, but it will stand to lose something," pundit Alexander Tevdoy-Burmuli tells the daily.
BBC Monitoring reports and analyses news from TV, radio, web and print media around the world. You can follow BBC Monitoring on Twitter and Facebook.