Cavan General Hospital: Investigation under way into the deaths of two babies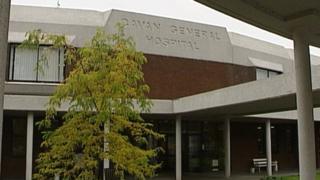 An investigation has been launched into the deaths of two babies in a hospital in the Republic of Ireland.
The babies died in two separate cases at Cavan General Hospital in the last week.
It is understood the first baby died after an emergency Caesarian section last Wednesday. Another baby died at the hospital on Sunday morning.
The Health Service Executive said it was investigating the circumstances around the deaths.
The investigation is expected to examine whether there was a delay in carrying out the Caesarian section in the death of the first baby.
Irish Health Minister Simon Harris said he became aware of the deaths of the two babies on Monday.
He said he expects a review into the two cases to be completed in the coming days by the HSE in conjunction with the RCSI (Royal College of Surgeons in Ireland) hospital group.
There have been previous investigations into the deaths of babies at the hospital in May 2014 and May 2015.
In a statement, the RCSI confirmed that two investigations had commenced in regards to Cavan General Hospital.
It said it is not the policy of Cavan General Hospital to comment on individual cases.