EU Commission criticised over special adviser appointment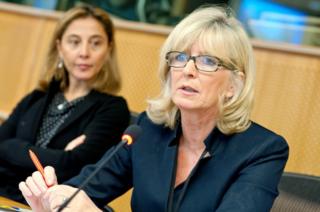 A top EU watchdog has strongly criticised the European Commission over the appointment of a special adviser.
European Ombudsman Emily O'Reilly said the appointment of Edmund Stoiber in 2014 was a case of "maladministration" because the Commission had bypassed conflict of interest checks.
Mr Stoiber, a former prime minister of Bavaria, headed a team that sought to cut the cost of EU regulations.
Ms O'Reilly has now widened her inquiry into EU special adviser appointments.
The Commission has about 40 such advisers, who have high-level access to EU politicians and often work for other private sector clients, the BBC's Nick Beake reports from Brussels.
In December 2014 the Commission failed to make public Mr Stoiber's disclosure that he also held positions with a big insurance company.
Commenting on the question of EU transparency in such appointments, Ms O'Reilly said that "culturally, there is not sufficient acceptance of why this is an issue".
"I get the sense people don't think it's a big deal. The Commission needs to get a lot more serious. It is not taking it sufficiently seriously."
The ombudsman investigates allegations of EU maladministration - sometimes made by ordinary citizens. She can call officials to account, but does not have any judicial powers.
Commission President Jean-Claude Juncker brought the German politician in because of his experience in cutting bureaucratic costs for small and medium-sized businesses in the EU single market.
For seven years he headed an expert High-Level Group advising the 28 member states on efficient ways to implement EU regulations.
The Commission says Mr Stoiber's group managed to cut administrative costs for businesses by more than 25%, giving a saving EU-wide of more than €33bn (£25bn; $37bn).
Mrs O'Reilly also accused the Commission of an ongoing lack of transparency in its dealings with the tobacco industry. And she said the Eurogroup - the group of eurozone finance ministers - ought to be more open.