Brussels police chief Vandersmissen attacked by rioter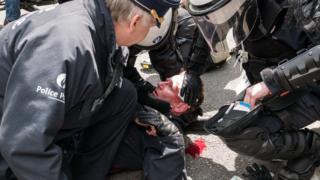 A Brussels chief of police has spent the night in hospital with concussion after a demonstrator punched him in the head during clashes in the centre of the Belgian capital.
Pierre Vandersmissen, who was using pepper spray on demonstrators, was knocked unconscious.
His attacker, wearing a bright red T-shirt, ran off leaving Mr Vandersmissen lying motionless in the street.
Mr Vandersmissen has become a controversial figure in Brussels.
A Facebook page calling for his removal was launched last month over the arrest of anti-racist protesters, including the head of Belgium's Human Rights League, Alexis Deswaef.
A total of 10 people were hurt, including eight protesters, in clashes that came at the end of an anti-austerity demonstration involving 60,000 people. Belgium's main unions have called for a series of actions against increased working hours and a higher retirement age.
Police had been applauded when they removed their riot helmets in an attempt to lower tensions as marchers reached the Gare du Midi, the Eurostar train terminal.
But when police were targeted with a variety of missiles, they responded with water cannon.
Mr Vandersmissen, in charge of maintaining order in central Brussels, was isolated in between two groups of protesters as he tried to move them back using his pepper spray.
He was then hit in the head from behind by a man in a red T-shirt and red cap. The video was broadcast on Belgian TV on Tuesday night.
Although the attacker was clad in the colours of the Socialist ABVV union (FGTB in French), he is not thought to be a member. The ABVV moved quickly to denounce the attack. Although a man has been arrested over the incident, police believe they are still looking for the attacker.
Another 20 people were detained and police said most were not union members.
The police chief was taken to hospital and Belgian reports suggested he might be well enough to leave on Wednesday.