Migrant crisis: Irish naval vessel LÉ Róisín rescues 274 people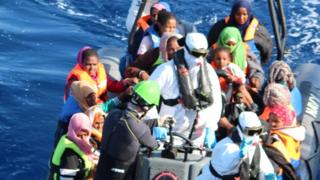 An Irish Naval Service vessel has rescued 274 people off the coast of Libya as part of a major operation led by the Italian coastguard.
The LÉ Róisín crew brought the migrants on board on Monday morning about 39 nautical miles (22.2km) north-west of Tripoli.
The rescue began at 09:31 local time and ended just over three hours later.
The migrants were trying to cross the Mediterranean Sea on a wooden vessel.
Crossed
They were given food, water and medical treatment on board the LÉ Róisín.
Shortly after the rescue was completed, the LÉ Róisín was sent to help with a rescue of another 125 people a short distance away.
More than 30,000 migrants have already crossed from Libya to Italy this year.
The ship left Cork on 2 May to begin search and rescue operations in the Mediterranean and had rescued 125 people before Monday's operations.
---
A note on terminology: The BBC uses the term migrant to refer to all people on the move who have yet to complete the legal process of claiming asylum. This group includes people fleeing war-torn countries such as Syria, who are likely to be granted refugee status, as well as people who are seeking jobs and better lives, who governments are likely to rule are economic migrants.