Fianna Fáil announces front bench team in Dáil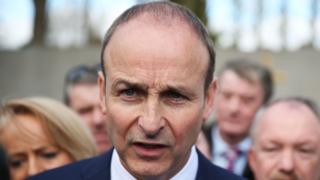 The Republic of Ireland's Fianna Fáil party has announced its front bench for the 2016 Dáil (Irish parliament).
At the end of last month the party agreed to back a minority government led by the rival Fine Gael party, with Enda Kenny returning as taoiseach (prime minister).
The parties are the two biggest in the Republic.
Fianna Fáil leader Micheál Martin will take the role of spokesperson for Northern Ireland.
He said he was determined his party would play a central role in the new Dáil.
"Fianna Fáil has played a central role in creating the opportunity for a new approach to politics in this Dáil and in this country," Mr Martin said.
"Having driven forward the political reform agenda immediately after the general election and by facilitating the establishment of a minority government with a confidence and supply agreement, the potential now exists for a parliament where good ideas can flourish and where good law, no matter where it originates, can be supported by a majority of representatives on a cross party basis and can be enacted."
Fianna Fáil campaigned against the outgoing Fine Gael government in February's election.
After the poll, Fine Gael had 50 seats, Fianna Fáil 44, Sinn Féin 23 and the Labour Party got seven.
But no party was able to form a majority government and TDs failed to elect a leader on three occasions.
Fianna Fáil and Fine Gael have dominated Irish politics since the early 1930s, but have never been in a formal coalition.
The full list of party spokespeople is:
Fianna Fáil whip, Michael Moynihan
Spokesperson on finance, Michael McGrath
Spokesperson on public expenditure and reform, Dara Calleary
Spokesperson on foreign affairs and trade, Darragh O'Brien
Spokesperson on regional development, rural affairs and the Gaeltacht, Éamon Ó Cuív
Spokesperson on jobs, enterprise and innovation, Niall Collins
Spokesperson on education and skills, Thomas Byrne
Spokesperson on social protection, Willie O'Dea
Spokesperson on housing, planning and local government, Barry Cowen
Spokesperson on agriculture, food and the marine, Charlie McConalogue
Spokesperson on transport, tourism and sport, Robert Troy
Spokesperson on communications, environment and natural resources, Timmy Dooley
Spokesperson on health, Billy Kelleher
Spokesperson on children and youth affairs, Anne Rabbitte
Spokesperson on justice and equality, Jim O'Callaghan
Spokesperson on defence, Lisa Chambers
Spokesperson on arts and heritage Niamh Smyth
Spokesperson on disability, Margaret Murphy O'Mahony
Spokesperson on mental health, James Browne
Spokesperson on Dublin, John Lahart
Fianna Fáil leader in the Seanad (senate) Senator Catherine Ardagh