Irish Travellers' rights 'breached' due to poor accommodation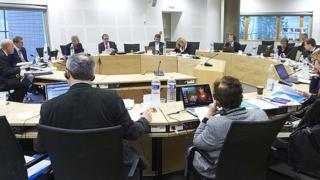 The Republic of Ireland has been found in breach of Travellers' human rights by providing them with inadequate and insufficient accommodation.
The finding was made by the European Committee of Social Rights - a watchdog that monitors states' compliance with the European Social Charter.
It follows a formal complaint lodged by the European Roma Rights Centre.
The committee also found that Irish law provides "inadequate safeguards for Travellers threatened with eviction".
The European Social Charter is a Council of Europe treaty which guarantees fundamental social and economic rights.
The 1961 treaty is a counterpart of the European Convention on Human Rights.
Members of the watchdog body unanimously agreed that the Republic of Ireland is in violation of Article 16 of the charter, which guarantees the right of the family to social, legal and economic protection.
Irish Human Rights and Equality Commission board member David Joyce described findings as "significant" and added it was important that the problems were being recognised at a high level in Europe.
Speaking to Irish state broadcaster, RTÉ, Mr Joyce said: "The numbers of Traveller halting sites are not being made available and the ones that are being made available are just not up to standards in terms of safety, sanitation services and management."