Joan Burton to step down as Irish Labour leader after disastrous election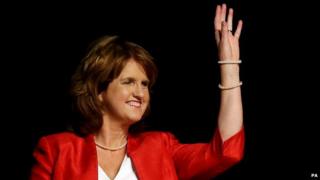 The leader of the Irish Labour party, Joan Burton, is to stand down after the party's poor performance in February's general election.
The party went from 37 Dáil (Irish parliament) seats in 2011 to just seven.
Ms Burton was Tánaiste (Deputy Prime Minister) and Minister for Social Protection in the last government.
She took over from Eamon Gilmore, two years ago, but will stay on until her successor is chosen.
The front runner is Brendan Howlin, from Wexford, who is the former Minister for Public Expenditure.
But it is understood that he only wants the job of Labour leader if he is the unanimous choice.
Other possible candidates include Alan Kelly, the former environment minister, and Sean Sherlock, a junior minister at the Department of Foreign Affairs who was involved in the Fresh Start Agreement talks in Northern Ireland.
If there is a contest it could be late August before the outcome is known.