Irish election: Dail to meet on Friday to elect a taoiseach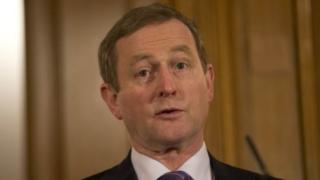 The Dáil (Irish Parliament) is to meet on Friday to try to elect a taoiseach (Irish prime minister).
Fine Gael and independent TDs (members of parliament) have met to discuss a draft programme for government.
This could allow the election of Mr Kenny to the leadership of a minority government.
Mr Kenny said the deal would be called the Programme for Partnership for Fairer Ireland and is believed to run to 150 pages.
However, some independent TDs are said to be unhappy with the announcement of the timing of the Dáil vote.
Some had been pressing to be allowed to consult their constituents over the weekend.
Following the February election, Sinn Féin and the hard-left ruled out involvement in government formation.
This left the two biggest parties, Fine Gael and Fianna Fáil , and some of the independents to move matters forward.
On Friday 29 April, Fianna Fáil and Fine Gael negotiators reached a deal whereby Fianna Fáil will facilitate a minority Fine Gael government, led by Mr Kenny, that is expected to include independents as ministers, for a period covering at least three budgets.
Fianna Fáil will not vote down Mr Kenny's government in motions of confidence, or on money bills.
That is in return for getting more input into legislation and giving TDs more of a role in law-making and in holding the government to account.
BBC NI News Dublin correspondent Shane Harrison said: "Fine Gael negotiators have been talking to the independent TDs and they believe they can help Mr Kenny make history and become the first Fine Gael taoiseach to be re-elected to office after a general election even though this will be the 32nd Dáil's fourth attempt to elect one.
"Because they are independent, those TDs still in play all have their own concerns; but they are reluctant to talk about individual constituency shopping lists.
"Broadly speaking, their issues cover such matters as cardiac care in the greater Waterford area, the closure of police stations in both rural and urban areas, broadband access in the more remote parts of the state, judicial appointments and the flooding of the Shannon basin.
"The independents fall broadly into three groupings: the Independent Alliance, the Rural Alliance and the non-aligned.
"The Independent Alliance has six members, including the former Trinity College Dublin senator and business journalist, Shane Ross; the group that has become known as the Rural Alliance has five members, and there are three non-aligned.
"But there are strong indications that not everyone in the groupings will end up voting the same way, with several coming from what is known as the Fianna Fáil gene pool."