'People smugglers in British car' shot in chase in France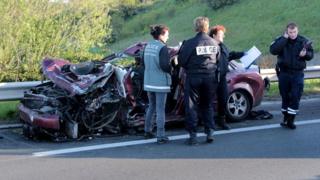 Police shot a UK-registered car carrying suspected people smugglers after a chase that crossed from Belgium into France, the state-owned Belga news agency said.
The Audi car carrying four men crashed near Dunkirk in northern France after a reported 200km/h (125mph) chase.
All four were seriously hurt. Two of the men were shot, Belga said.
Soon after the men were stopped, dozens of migrants were found in a lorry in Belgium in a linked operation.
Prosecutors told the agency there was strong evidence the men were involved in a trafficking ring.
France's La Voix du Nord newspaper said the chase began after a lorry driver in Belgium called police when he saw men trying to help 17 migrants into his lorry.
Belga said police arrived at the car park, and the suspects then fled in the car.
At least 15 shots were reportedly fired by police. One of the passengers was shot in the shoulder and another in the stomach, La Voix du Nord reported.
The chase continued over the border to France, causing at least three accidents, according to Belgian and French media.
Reports said all four men were Iraqi.
In the traffic chaos caused by the accidents, a motorcyclist died after striking a lorry.
The area is a transit hub for migrants seeking to make the journey to the United Kingdom. Belga said that an operation in Jabbeke, Belgium, found dozens of people in a lorry who had been hoping to reach the UK via France.
It is not clear if they were the same migrants who were reported to have tried to enter the lorry before the chase began.
L'Avenir newspaper in Belgium said the four men were in a serious condition, and being treated at a hospital in Lille, northern France.