Dublin: Luas tram drivers begin one-day strike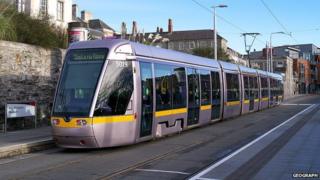 Drivers on the Luas tram system in Dublin have begun a one-day strike in a pay dispute.
The strike is expected to cause disruption to 90,000 passengers.
It is the ninth day this year that drivers have gone on strike.
Luas operator, Transdev, has said it will impose pay cuts of 10% from Friday if drivers continue the industrial action. Drivers have said they will not accept any cuts to wages.
The Services, Industrial, Professional and Technical Union (Siptu) said the threatened wage cuts are provocative and outrageous.
There are more strikes due on 4 May, 13 May, 20 May, 26 and 27 May.
The dispute is over pay rises of between 8% and 53% sought by drivers.
Transdev said these levels of pay rises are not sustainable.