Bursa: 'Suicide bomber' hits western Turkey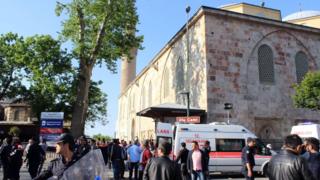 A suicide bomber has struck in the western Turkish city of Bursa, injuring 13 people, officials say.
The attack took place near the city's 14th Century Grand Mosque, a symbol of the city, reports said.
The governor of Bursa said the attacker was a suspected female suicide bomber.
Turkey has been hit by a wave of suicide bombings blamed on both Islamist and Kurdish militants. Earlier reports said one person had been killed in the blast.
However, Reuters news agency later quoted Turkey's health minister as saying 13 people had been wounded, none seriously.
No-one has yet claimed responsibility for the bombing.
On Tuesday the US warned of "credible indications" of terrorist threats at tourist areas in the country.
---
Recent attacks in Turkey
31 March: attack on a bus stop in mainly Kurdish city of Diyarbakir killed seven
19 March: a suicide bomber killed three Israelis and one Iranian in a shopping area in Istanbul
13 March: 35 people killed by Kurdish militants in Ankara
February: 28 killed in military convoy in Ankara
January: 12 German tourists died in a suspected IS suicide bombing in Istanbul; seven killed in a suicide attack on a police HQ in Diyarbakir
October 2015: More than 100 people are killed in a double suicide bombing at a Kurdish peace rally in Ankara
How dangerous is Turkey's unrest?
Tears and destruction amid PKK crackdown
Turkey in midst of hideous vortex
---