Dublin shootings: Two men dead after separate overnight attacks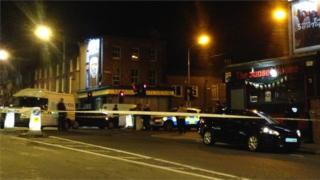 Two men - one from Northern Ireland - have been killed in separate gun attacks in Dublin overnight.
The first victim has been named locally as Michael Barr, who was originally from County Tyrone.
He was shot dead in the Sunset House pub in north inner city at about 21:30 local time in what appears to be the latest murder in a gangland feud.
The second man was killed just before midnight in Clondalkin, west Dublin, but the killings are not being linked.
'Living in fear'
However, politicians have said two fatal shootings within the space of two and half hours have caused serious public concern and some have called for extra police resources.
Mr Barr, who worked as a barman in Sunset House, was known to Gardaí (Irish police) for involvement with dissident republicanism.
In 2014, he appeared before the Republic of Ireland's non-jury Special Criminal Court, charged with IRA membership and possession of stolen property.
It is believed three men were involved in the pub gun attack and that they fled the scene of the fatal shooting in a silver car.
A burnt-out car was later found nearby in the Drumcondra area.
It is understood one gunman was involved in the Clondalkin shooting.
Gardaí are keeping an open mind about motive, but are not ruling out the possibility that the killing is linked to a violent dispute between the Hutch and Kinahan gangs which has so far claimed the life of five men.
'Living in fear'
In February, 33-year-old Dubliner David Byrne was killed in a gun attack at the Regency Hotel during a weigh-in for a World Boxing Organisation fight in the city.
Days later, a man claiming to speak on behalf of the Continuity IRA (CIRA) told the BBC its members were responsible for killing Mr Byrne, but police said they believed the murder was the result of a criminal feud.
Last week, detectives investigating Mr Byrne's murder carried out a search of Mr Barr's home.
Councillor Christy Burke, a former Lord Mayor of Dublin, said people in north inner city were "living in fear" after the latest fatal gun attack.
In a Facebook post, Mr Burke said: "Children from the area have to pass the crime scene on their way to school this morning.
"I'm calling on Garda chiefs to put in place protection for the decent people and children of the north inner city."
'Armed patrols'
Social Democrats Councillor Gary Gannon told the BBC: "There is a genuine level of fear, a real sense of fear, in the area.
"It's beyond anything we've seen before. People were very afraid before these two shootings, and it's worse now."
Garda Deputy Commissioner John Twomey told a news conference that officers were aware of the "trauma and distress that these incidents can cause to local communities".
"I would like to assure all that our work to prevent such acts - our work with local communities, our preventative patrols, our highly-visible armed patrols - will continue."
The victim of the Clondalkin shooting was also known to police, in connection to drugs and burglary investigations, but the two gun attacks on Monday are not believed to be linked.