Easter Rising: Influential sportsman who died during 1916 rebellion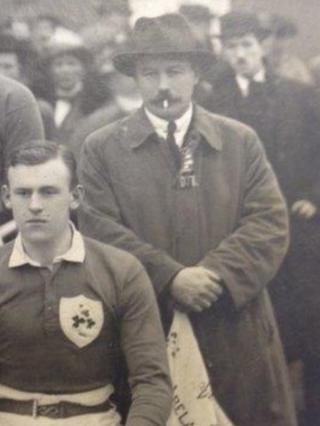 Exactly a century ago, one of the most influential men in Irish sport died after being shot during the 1916 Easter Rising.
Frank Browning was president of the Irish Rugby Football Union (IRFU) and captained the Ireland cricket team 13 times.
At the outbreak of World War One he established the Volunteer Corps, and many of his recruits would move into the Royal Dublin Fusiliers to form a "pals battalion" made up of rugby players from across Ireland.
On Easter Monday 1916, Frank Browning and his men spent much of their time doing what they enjoyed best.
For hours they were in the County Dublin countryside on military exercises, completely unaware of the dramatic events unfolding elsewhere.
As they marched in army uniform in the April air, surrounded by the trappings of empire, a few miles away hundreds of armed rebels were swearing allegiance to a different flag and pledging to fight for Irish freedom.
Browning's charges wore a distinctive outfit, and their khaki uniforms displayed red armbands with the initials "G.R.", which stood for "Georgius Rex", the Latin for King George.
Vital role
However, the men became victims of Dublin humour and were better known as the "Gorgeous Wrecks".
Aged 47, Francis, or Frank as he was better known, played a vital role in personally recruiting hundreds of sportsmen into the services.
Many young men who excelled on the sports field and later went into battle only did so because of Browning's influence.
His career and his life are essential to the story of Irish sportsmen in the Great War.
A barrister by profession, Frank Henry Browning was born in June 1868 and came from an Anglo-Irish family whose roots were in County Limerick.
As Browning and his men made their way back into Dublin after their day on manoeuvres, word reached them that large parts of the city centre had been taken over by armed rebels.
When the volunteer corps from the IRFU reached the inner city, not far from the familiar surroundings of Lansdowne Road rugby stadium, Browning's men decided to split up.
One half of the group went down Shelbourne Road towards the Beggar's Bush barracks, while Browning took a section of his men down Northumberland Road.
It is not clear what Browning intended to do with his men, who had no ammunition, but it is abundantly clear that he had no indication of what was to follow.
As he led his men down the road, four pairs of eyes were tracking their movements.
Shots
They belonged to armed rebels Jim Grace and Michael Malone and teenagers Paddy Byrne and Michael Rowe, who had taken over a house on the corner of Haddington Road.
As Browning walked forward in front of his men, Grace and Malone tracked his movements and then opened fire.
Seconds later a bullet pierced Browning's head, and he slumped forward with blood pouring from the wound.
His comrades scattered in all directions, with some taking shelter close to trees and walls and near the steps of houses.
The bullets continued to fly, and when the shooting finally stopped a doctor arrived to help take the dying and wounded into nearby houses.
Bleeding profusely, Browning was initially taken to Beggar's Bush barracks, and was then moved to a hospital in Baggot Street.
There was little that nursing staff could do because his injuries were so severe, and two days later on 26 April, he died.
He was one of five members of the volunteer corps to die that day, and 13 of his comrades were also injured.
Although Browning was associated with rugby in his later life, it was a different sport that had dominated much of his 47 years.
Cricket was his first love, and he began playing the game seriously when he was a student at Marlborough College in Wiltshire.
A short, well-built man with strong arms, he was a natural wicketkeeper, and became a regular member of the first eleven at Trinity College in Dublin.
'Lasting benefit'
He was selected for Ireland, and he made his debut in August 1888 against Scotland and went on to captain Ireland 13 times.
He was a batsman of note and in 1889 he hit nearly 900 runs in a season, which included two centuries.
Days after his death in April 1916, IRFU volunteer corp members wrote that Browning's work would have a "lasting benefit on his country" and they noted that "his memory will always be revered by members of the corps".
Browning was buried in Dublin at Dean's Grange Cemetery, and his colleagues at the IRFU erected a headstone, which praised him as an "honourable comrade and a distinguished sportsman".
The 1916 Easter Rising was quelled within six days by British troops, but despite its failure it is seen as a significant stepping stone to the partition of Ireland and the eventual creation of the Republic of Ireland.
More than 450 people were killed and 2,500 injured during the fighting.