Brussels bombing survivor: 'I can keep my legs'
A month after jihadist suicide bombers killed 32 people in Brussels, 44 survivors are still in hospital.
The BBC's Gavin Lee spoke to Sebastien Bellin, former captain of the Belgian national basketball team, who described his escape from the carnage at Brussels Zaventem airport.
Sebastien Bellin, 2.06m (6ft 9in), is making a good recovery, after four operations and skin grafts to rebuild his hip and multiple bone fractures in his legs.
"I remember checking in, I got my boarding pass. Right as I turned the corner I heard the first explosion behind me. It was about a hundred yards away, so I started running and about five or six seconds later, the second explosion went off and that's the one that got me."
Sebastien remembers immediately, as he puts it, coming up with a "game plan" when he was lying injured on the ground, and how that was a crucial part of his survival.
"The noise was deafening. Seeing body parts, hearing screaming and people panicking. There was a battle going on inside of me to panic, but I told myself stay calm.
"I think my sport helped me create a game plan in my head to deal with the pressure and get out. I was thinking 'this doesn't look good, but I have to find the resources around me to get out of this mess'."
There are two photographs of Sebastien at the airport after the explosions, dazed and lying on the ground in a pool of blood, which were published and broadcast around the world.
"In the picture it looks like I'm pointing at the photographer, and saying 'go away'. That isn't the case. I was pointing to a scarf on the floor to use as a tourniquet. I knew I was losing too much blood."
Saved just in time
Doctors say that when they found him, they were amazed he was still conscious, as he had already lost 50% of his blood and survival rates for such a catastrophic bleed were slim.
"Before they found me I had been placed on a cart by passengers and staff, who were helping to wheel the dead and injured to the back of the airport, because of the fear that there was going to be another explosion.
"So I asked to be pushed to the front entrance, I told a porter that I wouldn't make it otherwise. I asked to be pushed to the front entrance and just to be left there. A few seconds later, several firemen saw me and lifted me over the rubble to an ambulance."
Doctors think Sebastien will be strong enough to leave hospital in another month, but he says his "game plan" is to be out in half that time, to get back to his family. The inspiring fighting spirit that saved his life, despite the horrors he experienced, is keeping him positive.
"I am alive, I can keep my legs and eventually walk again and see my wife and two girls. So for me now, I only think of the positive."
---
More on Brussels attacks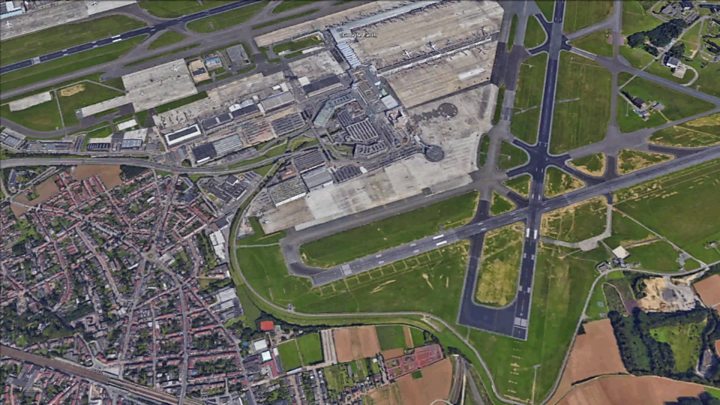 ---