Drink-driver jailed for killing toddler in Dublin crash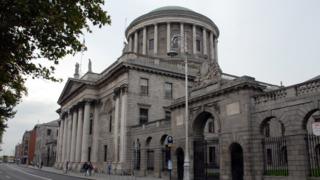 A Dublin man who drank a litre of vodka and took two grams of cocaine before he knocked down a toddler in the Phoenix Park has been jailed for five years.
Ciaran Lane, 25, of Ashington Avenue, Cabra, pleaded guilty to dangerous driving causing the death of 23-month-old Vanessa Siatka on April 6, 2015.
Her mother Katarzyna said it was the moment "time and [her] heart stopped".
A judge at Dublin Circuit Court said it was as bad a case of dangerous driving as he had ever come across.
Victim Impact
In a victim impact statement read to the court, Katarzyna Siatka said at the time she couldn't do anything but watch as her "baby was taken away" from her.
"All I could do was run to my baby," she said.
"I spoke to her, I told her I loved her and everything would be ok, daddy was on the way.
"I prayed for her, but as she lay on the road a small tear came from her eye and I knew in my heart that this was her last 'Goodbye Mammy'.
"Our hearts are shattered, Lukasz and I. Life stopped. We did not know how to exist - how to sleep, how to eat, how to wake up.
Nightmares
"Every day is a nightmare. Even to breath was difficult. I still have nightmares about the accident, they never go away. Without Vanessa, we will never be the same, never as happy as we were.
"Vanessa's room is empty, our home is empty, our lives are empty," she said.
The court heard that Lane failed to stop after hitting the child. The car took her along the road for a few metres and she tumbled along the road before coming out from under the car.
Half an hour later, Lane arrived at Cabra garda station and told gardaí (Irish police) that he had been involved in the collision.
Judge Patrick McCartan told the court this was "a terrible tragedy" with the "horrible loss of a young life".
The judge said this tragedy was "entirely avoidable" and he extended his "deepest condolences" to the family of Vanessa Siatka.
"Her family and friends come here today in search of some justice for what has occurred. It is probably the most difficult case that a judge has to deal with and this court is regretfully no stranger to these kind of cases," he said.
Injustice
He said there was nothing the court could do to address the injustice that had been created or help rebalance matters.
"My hands are tied by precedent and a higher sense of justice in that only in very exceptional cases should a maximum sentence be imposed. This case is not far from that position as it happens."
He said the Phoenix Park was used every day of the year by the citizens of Dublin with its many attractions for young children and their families.
"Easter Monday, April 6, 2015 was a particular busy day, it was a very pleasant and warm day. Anyone who used the park, including the accused, would know there would be children about.
"The evidence has established that the accused was in no position to consider the safety of others," he said.
The judge said Lane drove his car in the "most erratic way" and that Vanessa Siatka "had no chance".
Mitigation
"He was a father of a child of the same age and knows the value of life in that respect," he said. He said the only mitigating factor was that Vanessa Siatka was on the road.
The judge said Lane was a young man, the father of a child, he came from a young family and had entered an early guilty plea.
Lane was sentenced to seven years in prison with the final two years suspended.
"Having regard to what has been said about his age and that it is his first time to go to prison, I propose to suspend the last two years of sentence if he remains alcohol and drug free for a period of two years from his date of release from custody," he said.
Lane has been banned from driving for twenty years.