Dublin murder: Police believe they have found gun used to kill Martin O'Rourke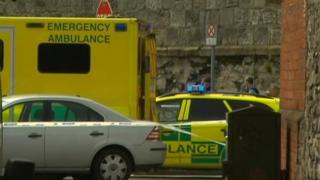 Police in the Republic of Ireland believe they have recovered the weapon used in the murder of a man in Dublin.
Father-of-three, Martin O'Rourke, 24, died after he was shot several times outside a pub in the Sheriff Street/Oriel Street area at about 12:30 local time on Thursday.
It is understood the murder was a case of mistaken identity.
A handgun was found in a bin a short time after the shooting.
Mr O'Rourke tried to run but was shot several times by a gunman dressed in dark clothes, who then cycled away.
The gun is now undergoing ballistic tests but is believed to be the murder weapon. Police have also recovered a black bicycle.
The scene of the shooting remains cordoned off.
RTÉ reports that it is the fifth murder as part of a feud between associates of Gary Hutch, who was shot dead in Spain last year, and David Byrne, who was connected to the Kinahan international drugs cartel based in Spain.