Fianna Fáil TDs meet to consider Enda Kenny's coalition offer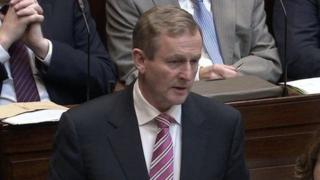 Fianna Fáil TDs are meeting to consider an offer of "full partnership government" from Fine Gael leader Enda Kenny.
Mr Kenny and Fianna Fáil leader Micheál Martin met for more than an hour on Wednesday night.
It was the first time discussions between their respective parties took place on cooperation in government.
However, a senior member of Fianna Fáil says he believes the coalition offer will be rejected by the party.
Willie O'Dea told RTÉ that people voted to "get rid of Enda Kenny as taoiseach" and not for Fianna Fáil to share "Mercs and perks" with Fine Gael.
Earlier, Fine Gael's Simon Coveney told RTÉ his party's offer of sharing power with Fianna Fáil is a "genuine, real offer".
He added that it was in the "best interests of the country for the two large parties to come together".
Irish politicians have been attempting to form a working government since the general election in February.
Following the February election to the Dáil, Fine Gael has 50 seats, Fianna Fáil 44, Sinn Féin 23 and the Labour Party got seven.