Fine Gael and Fianna Fáil resume talks with independents and Green Party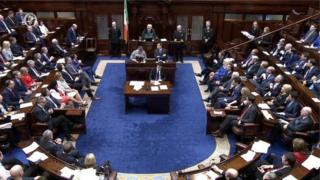 Fine Gael and Fianna Fáil are holding talks with independent TDs (members of the Irish parliament) and the Green Party about the formation of a new Irish government.
TDs failed to elect a new taoiseach (prime minister) when they voted on 10 March and are still without a leader.
A second vote on nominations for taoiseach will take place on 6 April.
Wednesday's talks will focus on the issues of climate change, justice, equality and disability.
It is hoped the discussions will result in support for a new government.
Caretaker taoiseach Enda Kenny told a meeting of 17 TDs on Tuesday that the options moving forward were stark.
He also ruled out Fine Gael supporting a minority Fianna Fáil government.
Mr Kenny also said Fianna Fáil had ruled out a coalition with Fine Gael.
The Green party leader, Eamon Ryan, said it was unlikely the party would go into government.
As it stands Enda Kenny, who did not receive enough votes to become the new taoiseach, and his party Fine Gael, are continuing to carry out their duties until a new government can be formed.
The other nominations for taoiseach were Fianna Fáil's Micheál Martin, Sinn Féin's Gerry Adams and People Before Profit's Richard Boyd Barrett. None received enough votes.
The Irish general election was held on 26 February Fine Gael won 50 seats, Fianna Fáil 44, Sinn Féin 23 and the Labour Party got seven.
Smaller parties and independents make up the other 34 seats.
The 32nd Dáil has been meeting without a leader.