Paris free first aid training attracts thousands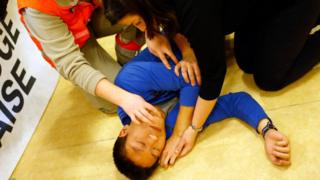 Some 3,200 people have attended free first aid training in Paris to be better prepared in the case of attacks.
The two-hour sessions were held in every district of Paris and showed participants how to react in emergency situations, the AP news agency reports.
Officials plan to repeat the training at least once a year, it said.
The course was approved by the Paris city council following last November's attacks that killed 130 people in the French capital.
The capital's firefighters and the French Red Cross have noted a sharp increase in demand for their first aid training programs since the attacks, AP reported.