Easter Rising 1916: How the rebellion stopped the weather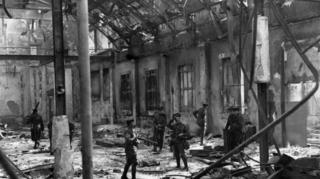 Every day, from 1904 to 1959, weather observations from Trinity College, Dublin, were handwritten in large broadsheet books.
Apart from the Easter Rising on 24 April 1916.
Then, the records stopped for almost four weeks.
A note covering the period of 24-30 April, written by observer S. A. Clark, reads: "Owing to disturbances in Dublin, the observations were not taken from the 24th to the end of the month".
The meteorological records, which included atmospheric pressure, temperature, wind direction and speed, cloud cover and rainfall amounts, did not resume at the university until 18 May 1916.
S.A Clark later noted that observations were not taken "owing to the rebellion in Dublin".
It is not fully known why weather reports stopped although it is believed students may have had to down tools in order to help protect the university.
Jennifer Foran, from the Irish weather service Met Éireann, said: "Some of the students were involved in defending the college so that may be why there are no recordings, but we don't know that for certain."
Weather recordings, however, did continue in other sites in the city including Glasnevin and Fitzwilliam Square.
According to Met Éireann, little is known about the observer Mr Clark apart from the fact that his name appears on records from January 1914 but did not appear again after May 1916.
This would not be the last time weather observers would be caught up in the crossfire during violence in Ireland.
The Irish Civil War broke out between 1922 and 1923 over the signing of the Anglo-Irish Treaty, which saw the the partition of Ireland and the formation of an Irish Free State.
Fierce fighting broke out in near Valentia Observatory in County Kerry when Irish Free State forces took the nearby town of Cahirciveen in August 1922.
According to reports from C.D. Stewart, superintendent at the observatory, "no observation was missed and no record was lost" during this time.