Brussels raid: Paris suspect Abdeslam's fingerprints found in flat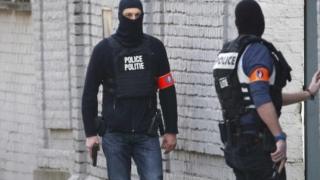 Fingerprints of Paris attack suspect Salah Abdeslam have been found in a Brussels flat raided this week, Belgian prosecutors say.
State broadcaster RTBF says he may have escaped during Tuesday's police raid, in which one suspect was shot dead.
The raid was linked to last year's Paris attacks in which 130 people died.
Abdeslam, a French national born in Brussels, has been the subject of a massive manhunt since the attacks, claimed by Islamic State militants.
"We can confirm that fingerprints of Salah Abdeslam were found in the apartment," said Eric Van Der Sypt, spokesman for Belgian federal prosecutors.
He declined to provide further details "in the interest of the investigation".
Other media outlets reported that Abdeslam's DNA had also been found in the flat.
Meanwhile, RTBF said that "according to our information, it is more than likely that he (Abdeslam) is one of the two individuals who escaped during the shootout".
False identity card
Four officers were wounded when Belgian and French police raided the flat in the southern Brussels district of Forest on Tuesday.
Later that day, Mr Van Der Sypt revealed that "police were fired at" during the operation.
The suspect who was shot dead was identified as Algerian national Mohamed Belkaid. He was killed by snipers while trying to fire at police from an apartment window.
Officials said Belkaid was born in 1980 and had been living in Belgium illegally.
The federal prosecutor's office said he was likely to be the same man on the wanted list after the Paris attacks under the name Samir Bouzid.
A false identity card in the name of Samir Bouzid was used four days after the Paris attacks, when €750 (£585) was transferred to Hasna Ait Boulahcen, a niece of suspected Paris attacker Abdelhamid Abaaoud.
Both died during a police raid in the Paris suburb of Saint Denis shortly after the attacks.
Police are still hunting two other suspects who are believed to have been in the Brussels apartment.
Abdeslam, the 26-year-old French national born in Brussels, is a key suspect who is still on the run after the 13 November Paris attacks.
He is believed to have returned to Belgium immediately after the attacks, in which his brother Brahim blew himself up.
Since the 13 November attacks, officials have identified most of the people they believe to have carried out the assaults.
Most of the suspects either died during the attacks or were killed in subsequent police raids.
In addition, 11 people have been arrested and charged in Belgium in connection with the killings. Another eight are still in detention.
Parts of Brussels were sealed off for days after the Paris massacre amid fears of a major incident. A number of suspected attackers lived in the Belgian capital.
Police have also carried out a series of raids in the city.