Murder investigation after car bomb kills driver in Berlin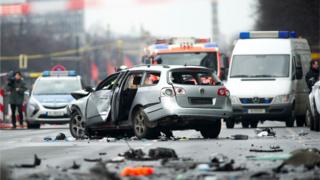 Berlin police have launched a murder inquiry after car bomb exploded in a travelling vehicle, killing the driver.
The explosion occurred as the car moved through the western Charlottenburg district towards the centre. It flipped the vehicle into the air, police said.
They have identified the victim as a 43-year-old man of immigrant background.
Officials believe the blast was linked to organised crime and say there is no evidence of any link with terrorism.
However they do not know if the driver of the car was the intended target, a police spokesman said, quoted by German media.
The explosion happened "in or on" the front part of the Volkswagen Passat as it travelled along the Bismarckstrasse during the morning rush hour, a police spokesman said.
Police told residents in the area to close their windows and stay in the back of their apartments.
But bomb disposal teams later said there was no risk of more explosions.