Sammy the seal: County Wicklow chip shop gets seal of approval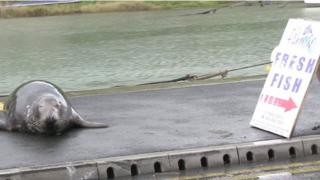 A chip shop in County Wicklow has got the seal of approval from an aquatic creature who has been making waves in the area.
Every day, Sammy the seal hops out of the sea and crosses the road to grab a fish supper from his local restaurant.
Sammy's daily ritual has garnered a lot of attention, with a YouTube video of his routine going viral online.
Restaurant owner, Alan Hegarty, said Sammy showed up outside the chip shop not long after he opened it in 2012.
Speaking to the BBC's Sunday News programme, he said: "He appeared a week or two after I opened the chip shop, but it's only recently he's started jumping out of the sea and crossing the road."
'Proper gentleman'
He added that Sammy is "still a wild animal", but that he has become so beloved by employees that he even has regular feeding times.
Mr Hegarty said: "We feed him a little amount three times a day - at nine o'clock, one o'clock and four o'clock.
"Even when the clock goes back, he's still spot on time! Normally seals would eat around 10 kilos a day, we give him three."
Mr Hegarty said that Sammy hopping across the road has startled a few people, but that he has brought a lot of joy to kids in the area.
He revealed that Sammy was no longer alone in the Irish waters - around Valentine's Day, a female seal showed up.
"She stayed - she obviously wasn't a one night stand. We haven't named her yet, but we have a competition running for local people to name her," he said.
"When I go to feed them Sammy steps back so I can feed her first, he's a proper gentleman."
Sammy's antics certainly have been making a real splash in Wicklow town, and now with a lady friend saddled up beside him, it looks like he is set to stay.