Brendan O'Carroll: Comic says 1916 Easter Rising lessons 'not learned'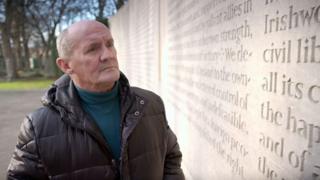 Irish comedian Brendan O'Carroll, star of the TV show Mrs Brown's Boys, has said the world has failed to learn lessons from the 1916 Easter Rising.
He was speaking after taking part in a BBC programme that shed light on his family's involvement in the rebellion.
Three of his uncles fought in the rising against British rule in Ireland. One ordered the death of a British soldier and later radicalised rebels in jail.
O'Carroll said people who have nothing to lose become "easy to radicalise".
The writer and comic actor went on a personal journey of discovery while reflecting on the wider story of the Easter Rising, which was a brief but violent insurrection in Dublin during Easter week 100 years ago.
The 1916 rebels were quickly defeated by British troops, but many historians view the rising as the catalyst for the later Irish War of Independence, which ended with the partition of Ireland in 1921.
O'Carroll had already delved into his family's involvement in the most turbulent decade in Irish history when he took part in the 11th series of the BBC show Who Do You Think You Are?
His paternal grandfather, Peter O'Carroll, was shot dead during the War of Independence and the 2014 programme suggested he was killed because he refused to pass on information about two of his sons, who were both members of the IRA.
In this latest programme, Brendan O'Carroll: My Family At War, the comic actor finds out more about those two men - his uncles Liam, James and Peadar O'Carroll - who were all involved in the Easter Rising.
Liam was later jailed with other Irish rebels at Frongoch prison camp in Wales, where he went on to radicalise fellow inmates.
"I was absolutely stunned at the idea that all those that were arrested over the rising, 2,000 plus of them, ended up in Frongoch prison camp, which was built really as a German prison camp for Germans," the actor told the Press Association.
"So they radicalised. They put them all in one place, and they started running courses on how to build radios. They actually wrote chapters and courses and gave them to groups of men on how to use flying columns.
"We should have learned from that, but we didn't, because we have places like Guantanamo Bay, where we get them all together and put them all in one place, and go: 'Be good, okay? Don't be teaching each other things'."
He added: "I think in many ways, we have continually repeated ourselves in parts of history."
O'Carroll linked support for violent Irish republicanism with poverty in Dublin at the time, saying he was struck by photographs of barefoot schoolchildren.
He said he believed that if people were put in a situation where they have nothing to lose, "don't be surprised if they come and give their lives in an effort to change things".
Brendan O'Carroll: My Family At War will be broadcast on BBC Two at 21:00 GMT on Wednesday 16 March.