Irish election: Cabinet to meet to discuss options for government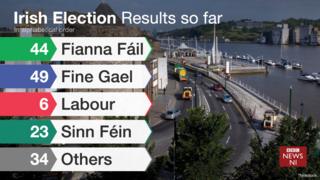 The Irish cabinet is due to meet on Tuesday afternoon to discuss options for government following the election results.
Recounts and counts are continuing in three constituencies, but there is still no firm indication on who will form the new government.
Most of the 158 seats have been filled with just six left to be allocated.
So far, Fine Gael remains the largest party with 49 seats - a five-seat lead over its main rival, Fianna Fáil.
Electoral staff are re-examining the ballot papers in Longford-Westmeath and in one Dublin constituency - Dublin South Central.
A count is continuing in another Dublin constituency - Dublin Bay North.
On Monday, Fianna Fáil leader Micheál Martin has said a new government should not be formed before reforms of the Dail (parliament) take place.
"We believe that the new Dáil should not represent more business as usual - that it should involve a decisive move towards a reformed politics," he said.
Former prime minister (taioseach) Bertie Ahern said he believed talks to form a new coalition government would not be concluded before Easter.
The current taoiseach, Enda Kenny, admitted over the weekend that the Fine Gael/Labour coalition government he led for the past five years had failed to secure a return to office.
'State of flux'
He will continue to lead the Republic of Ireland in a caretaker capacity until a new coalition is agreed.
It is now likely that Mr Kenny will be one of three party leaders who could be proposed as a potential Taoiseach when the parliament (Dàil) reconvenes on 10 March.
The other candidates are Fianna Fáil leader Micheál Martin and Sinn Féin president Gerry Adams.
Sinn Féin is currently in third place with 22 seats while independents and smaller parties have also done well with 31 seats between them so far.
However, the junior coalition partner, Labour, has suffered badly with only six seats so far, after winning 37 in 2011.
More than three million people were entitled to vote in Friday's poll, which will return 157 members of parliament, known as TDs. The speaker is automatically returned.