Dublin shooting: Victim was brother of murdered Real IRA man Alan Ryan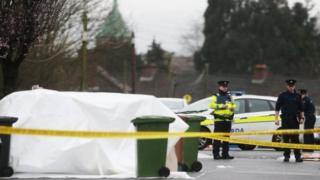 The man shot dead in north Dublin on Monday was a brother of a murdered member of the dissident republican Real IRA.
Vincent Ryan, 25, was shot as he sat in a car at McKee Road, Finglas, at about 15:15 local time.
His brother, Alan Ryan, was killed in 2012. Both men had been well known to Irish police.
It is believed Vincent Ryan was shot in the head, throat and chest. He later died in hospital.
Irish police (gardai) have begun a murder inquiry.
Vincent Ryan has also been described by police as a well-known dissident republican.
A burnt-out vehicle was found near the scene of the shooting.
Police are not linking Monday's murder to a gangland feud in the city that claimed two lives earlier this month.