Irish election: Enda Kenny admits coalition will not return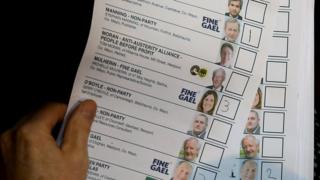 Irish prime minister Enda Kenny has admitted his coalition government has failed to secure a return to office as the country's election count continues.
Results so far suggest Mr Kenny's Fine Gael party will remain the largest in parliament, but will have only a narrow lead over its main rival, Fianna Fáil.
The Labour Party, the junior coalition partner, looks to have suffered badly.
Sinn Féin, smaller parties and independents all appear to have done well.
Just a handful of seats have yet to be declared.
Counting will not end until Monday at the earliest as a recount in Wexford, requested by Sinn Féin, will not begin until the morning.
Notable candidates elected on Sunday include Sinn Féin president Gerry Adams and Agriculture Minister Simon Coveney, of Fine Gael.
Alan Kelly, the deputy leader of the Labour Party, narrowly retained his seat.
However, Fine Gael's deputy leader, and children and youth affairs minister, James Reilly has lost his seat in Dublin Fingal.
On Saturday, Fine Gael's former justice minister Alan Shatter also lost his seat, as had Alex White, the Labour Party's communications minister.
After being elected, Mr Adams criticised both Fine Gael and Fianna Fáil.
Analysis: Chris Buckler, BBC Ireland correspondent
Elections give voters the opportunity to choose who should run their country, but the results in the Republic of Ireland suggest the public cannot agree on who should take power.
The next Irish parliament will be a divided one, with a definite split between left and right.
"Fianna Fáil won't deliver. People who voted for them will be disappointed in the longer term," he said.
"The two big parties, Fianna Fáil and Fine Gael, have let the people down. They couldn't muster 50% of votes across the state - that's a seismic change in political history here."
Dr Reilly, Fine Gael's deputy leader, said he believed the former government would be remembered for "turning the country round" but that his party failed to get that across to voters during the election campaign.
"I'd liken it to a medical metaphor that the operation was a success but the patient is still in a lot of pain," he said.
"That pain was evident at the doors. I don't believe we got our message as clearly out as we could have in terms of making an emotional connection with people."
Government options
There is growing pressure on the two largest parties to provide a government.
Before the election, both Fine Gael and Fianna Fáil indicated that they would not go into coalition with each other.
Mr Kenny - who has been re-elected in Mayo - said it was clear the existing government would not regain power.
He refused to discuss possible options for the next government.
However, he added: "As taoiseach I have a duty and responsibility to see how best we might be able to put together a government."
"I'd like to think that it could be possible, given the final results, to be able to put a government together that could work through the many challenges we have."
On Saturday, Fianna Fáil leader Micheál Martin said he was "very pleased" but that it would take time before the shape of the new government becomes clear.
Analysis: Mark Devenport, BBC News NI political editor
Now the results are in, Sinn Féin is still insisting it will not back Fine Gael or Fianna Fáil, but its talk of being in government on both sides of the Irish border has been put on hold.
Instead, it appears poised to play an influential role in opposition.
Read more analysis on Sinn Féin's election performance here
Labour Party deputy leader Alan Kelly, who narrowly retained his seat in Tipperary, said Fianna Fáil and Fine Gael should "cop themselves on now" and form a government.
"All of this pretending that there are massive issues between them is rubbish.
"They need to come together, work together and put a government in place for the good of the people."
Earlier, Sinn Féin's deputy leader, Mary Lou McDonald, who was re-elected in Dublin Central, told RTÉ's Morning Ireland programme her party would not be "enablers" of Fine Gael and Fianna Fáil "running rampant across an unequal society".
Economic issues
She said going into government with either Fine Gael or Fianna Fail or both, was a matter for Sinn Féin's ruling executive.
More than three million people were entitled to vote in Friday's poll, which will return 157 members of parliament, known as TDs. The speaker is automatically returned.
The campaign was fought mainly over economic issues, with the government parties asking voters for their support to keep the recovery going at a time when international storm clouds were gathering.
But the opposition parties countered that not everyone, especially outside middle-class Dublin, had been benefiting from the up-turn.
The Republic of Ireland has had the fastest growing economy in the eurozone for the last two years.
TDs are being elected according to the single transferable vote system, in which candidates have to reach a quota, before their surplus votes are distributed to others.