Education Minister John O'Dowd to step down after election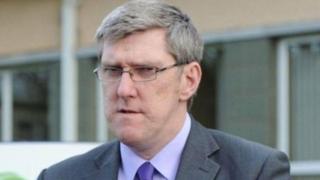 The education minister, John O'Dowd, has confirmed to the BBC that he will be stepping down after the assembly elections in May.
The Sinn Féin MLA has held the office since May 2011, making him the longest serving education minister currently in post in the UK.
Mr O'Dowd has been an assembly member for Upper Bann since 2003.
He said he would run for re-election as an MLA.
"My party rotates its ministers at the start of each new mandate - a policy I fully support," he said.
"I have greatly enjoyed my time as minister for education and, if re-elected to the assembly, I look forward to a new challenge."
As minister, Mr O'Dowd has been in charge of one of the executive's largest departments, with an annual budget of around £1.9 billion.
Sinn Féin MLAs have held the education ministry since the establishment of the Northern Ireland Assembly following the Good Friday Agreement.