Turkey Italy football: Galtasaray fans scuffle with police in Rome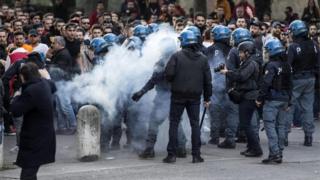 Italian police have baton-charged hundreds of Galatasaray football fans who tried to break through a cordon ahead of a Europa League match against Lazio in Rome.
Some of the supporters of the Turkish club threw flares and firecrackers as they gathered in the central Piazza del Popolo square.
Clashes between rival fans began on Wednesday night and officials say two people were "slightly" stabbed.
They later left hospital in Rome.
Dozens of fans were briefly detained for identification checks.
In a statement, Rome police said: "Thanks to international police co-operation, we were able to limit the potential for trouble by the Galatasaray fans in the hours between Wednesday night and Thursday morning."
Last week, Galtasaray and Lazio drew 1-1 in the first leg of the European competition.