Italy and US in Silvio Berlusconi 'spying' row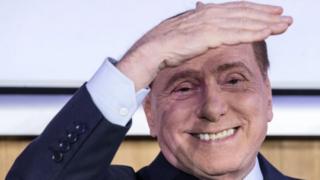 Italy's foreign ministry has summoned the US envoy in Rome over reports that America's intelligence services spied on former PM Silvio Berlusconi.
Ambassador John Phillips was called in "for clarification" on the issue, the ministry said.
Italy's La Repubblica daily earlier reported that Mr Berlusconi was wiretapped by the US National Security Agency (NSA) in 2011.
The NSA has not publicly commented on the allegations.
La Repubblica said classified documents had been released by the WikiLeaks whistleblowing website.
Among the documents, the newspaper said, were details of a meeting between Mr Berlusconi with German Chancellor Angela Merkel and then French President Nicolas Sarkozy in 2011 and also talks between Mr Berlusconi and Israeli Prime Minister Benjamin Netanyahu.
Mr Berlusconi - who was Italy's longest serving post-war prime minister - stepped down from his post in November 2011.
The 79-year-old tycoon - who last year was found guilty of bribing a senator - has so far made no comments on La Repubblica's report.
In 2015, Germany dropped an investigation into alleged tapping of Mrs Merkel's phone by the NSA.
Prosecutors said the NSA had failed to provide enough evidence to justify legal action.