Mars Ireland recalls some chocolate products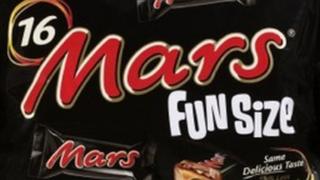 Mars Ireland has ordered the recall of seven products after bits of plastic were found in a chocolate bar in Germany.
It was discovered by a customer in a Snickers bar in January.
As a result, Mars is recalling chocolate in 55 countries.
Mars Ireland described it as an "isolated incident" and said it had not received any complaints from consumers in the Republic of Ireland.
The following products in Ireland have been recalled:
Celebrations box 380g - best before date 8.5.2016
Celebrations box 380g - best before date 17.8.2016
Funsize mix variety pack 358g - best before date 24.7.2016
Funsize Mars 250g - best before date 4.9.2016
Funsize Mars 250g - best before date 11.9.2016
Funsize Mars 250g - best before date 18.9.2016
Funsize Milky Way - best before date 2.10.2016
Consumers who have any of the above products are asked not to consume it and to contact Mars Ireland in the following ways:
Mars Ireland, Box 3856, Dublin 4