Offices of China's biggest bank ICBC raided in Madrid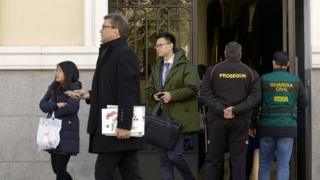 Police have searched the Madrid offices of China's biggest bank as part of a money-laundering investigation.
Five directors of the Industrial and Commercial Bank of China (ICBC) have been arrested.
The police, the Spanish tax agency and Europol were investigating the alleged laundering of €40m (£31m, $44.5m) through the bank by a crime gang that was dismantled last year.
An ICBC spokesman told Reuters agency the branch was "actively co-operating".
Chinese organised crime groups, based in Madrid, are suspected of importing goods to Spain without declaring them on customs forms, in order to avoid taxes.
The ICBC is accused of sending the funds to China without making full legal checks as required by law.
A bank spokesman said: "Strictly implementing anti-money laundering regulations, and strictly operating within the law and regulations have always been our fundamental operation and management principles."