Turkish pro-Erdogan newspapers 'attacked' in Istanbul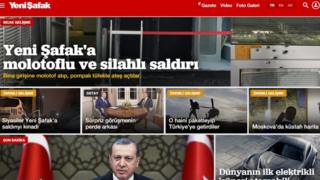 Unidentified assailants have hurled petrol bombs and fired shots at the Istanbul offices of two staunchly pro-government Turkish newspapers, the papers and the police say.
The daily Yeni Safak said its offices and those of Yeni Akit were attacked. No casualties were reported.
It said four masked assailants attacked the Yeni Safak building. Firefighters quickly extinguished the blaze.
Police have cordoned off the area around the building.
The two papers support the governing AK Party of President Recep Tayyip Erdogan.
The Yeni Akit offices are 20km (12 miles) away from the Yeni Safak building, and the night-time attacks happened almost at the same time, early on Thursday.
Windows in both buildings were shattered by the gunfire, Istanbul police said.
"Numerous spent bullet casings were also found at both scenes," the police added. They are now hunting the assailants.
So far no group has claimed it was behind the attacks.
Last September, pro-government protesters attacked the offices of the daily Hurriyet, accusing the paper of misquoting President Erdogan.