County Kildare canal body: Pair arrested over Kenneth O'Brien murder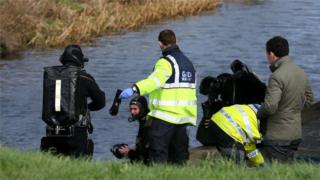 Two men have been arrested in connection with the murder of Dublin man Kenneth O'Brien.
Mr O'Brien's dismembered torso was found in a suitcase in the Grand Canal at Ardclough in County Kildare on 16 January.
The 33-year-old had recently returned to Ireland from working in Australia. It is believed he was shot before being dismembered.
One of the men who was arrested is in his 30s, the other is in his 50s.
Police investigating the murder also found human remains in the Grand Canal at Sallins in County Kildare. These were subsequently identified as Mr O'Brien's.