Slovenia 50-car pile-up leaves four dead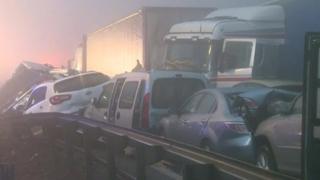 A huge pile-up involving more than 50 vehicles in Slovenia has left at least four people dead, local media reported.
The accident happened in heavy fog on a major highway linking the capital Ljubljana with the Adriatic coast, according to the reports.
Several other people were injured in the crash, which closed the key route in both directions.
Rescuers have been working at the scene and it is not clear if people remain in the wreckage.