County Louth: Travellers meet council over evictions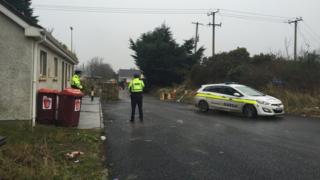 Irish travellers facing eviction from an illegal halting site in Dundalk, County Louth, are meeting council staff on Monday to discuss accommodation.
The Woodland Park site used to be an official halting site but was decommissioned by Louth County Council a number of years ago.
The council has been trying to evict about 17 families who are living there, citing health and safety reasons.
However, travellers' rights campaigners criticised the way it has been handled.
On Friday, police were at the scene and officers impounded a number of caravans, but other mobile homes remain on the site.
On the same day Martin Collins, co-director of the travellers' group Pavee Point, released a statement saying Louth County Council had "totally failed in its duty" by not providing "traveller-specific accommodation such as halting sites or group housing schemes".
"They are trying to force travellers into social or private housing and this is in total breach of the 1998 Traveller Accommodation Act," Mr Collins said.
Some of the families have young children, and spent the weekend in B&B accommodation or with relatives and friends.
Louth County Council said it is working with the families to help them secure long-term, traveller-specific accommodation.