Poland media law: Duda and Tusk urge calm in EU rights row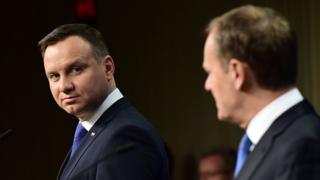 Polish President Andrzej Duda has used his first foreign trip to try to smooth over an escalating dispute with the EU over his right-wing party's legal reforms in Poland.
He met Donald Tusk, the EU Council President and former Polish prime minister, who insisted Poland had no enemies in the EU.
Poland's new government has expanded its control of the media and judiciary.
The EU is now investigating whether it broke EU rule-of-law standards.
Earlier this month President Duda approved the controversial laws, which enable the conservative Law and Justice (PiS) government to hire and fire the heads of public TV and radio as well as senior civil servants and choose judges for Poland's constitutional court.
European Commission Vice-President Frans Timmermans launched an unprecedented investigation last week prompting Poland's justice minister to accuse him of having a "lack of knowledge" of the new laws.
Mr Duda insisted, in an article in the FT on Monday, that "democracy and free media in Poland are not endangered in the least" and argued that the PiS had been elected to fight the cronyism of previous governments.
After their talks on Monday, the EU Council president said Polish and EU interests were essentially the same and called for an end to "hysterical behaviour".
Mr Tusk was prime minister from 2007-14 after his centre-right Civic Platform party ousted the PiS in a general election.
Current Prime Minister Beata Szydlo will travel to Brussels on Tuesday in an attempt to explain the legal reforms to the European Parliament.
But PiS leader Jaroslaw Kaczynski, who is widely seen as the party's most significant figure, said at the weekend that Poland would not succumb to any pressure. "No-one can have any illusions that there will be some surrender or any compromises," he told Rzeczpospolita newspaper.
EU leaders are set to discuss Poland's changes to its media laws and judiciary at next month's summit. But Hungary's right-wing leader, Viktor Orban, has promised to veto any censure of his Polish ally.
---
EU's rule of law action
EU introduced mechanism in 2014 to protect fundamental values
Activated by "systemic breakdown" affecting proper functioning of state's institutions and mechanisms
Three-stage process: Commission assessment and opinion, recommendation of action with time limit and then potential resort to Article 7 of Lisbon Treaty
Article 7 can mean suspension of state's voting rights in EU Council, where ministers from 28 states shape EU policy
---