PJ Mara: Former Irish government press secretary dies at 73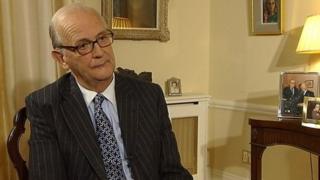 PJ Mara, a former press secretary to the Irish government, has died aged 73 following a long illness.
He was best known for his work with the former Irish Prime Minister (Taoiseach) Charlie Haughey in the 1970s and 1980s.
Mr Mara also served two terms as a senator in the Irish parliament and held many roles in the private sector.
He was a colourful character in Irish politics who became a household name, largely through satirical impressions of him on the RTÉ show, Scrap Saturday.
The sketch show was co-created by the comic actor, Dermot Morgan, before he found international fame with his lead role in the TV comedy series, Father Ted.
'True original'
Morgan regularly lampooned the spin doctor's working relationship with Mr Haughey, and those sketches became central to the show.
Mr Mara rose to prominence as a political advisor to Fianna Fáil, which is now the main opposition party in the Republic of Ireland.
He was Fianna Fáil's director of elections in 1997, 2002 and 2007 and the party was returned to government on all three occasions.
He also campaigned in favour of the 1998 Good Friday Agreement.
Mr Mara was embroiled in controversy in 2002 when the Flood Tribunal - a long-running public inquiry into allegations of corruption in the planning system - found that he had not disclosed an offshore bank account to the inquiry.
As his death was announced on Friday, the current Fianna Fáil leader Micheál Martin paid a warm tribute to Mr Mara, describing him as a "true original who it was an honour and a pleasure to know and to work with".
"In a series of general elections as well as the referendum on the Good Friday Agreement, PJ proved himself to be the most effective campaign director in Irish political history," Mr Martin said.