Jail for French official who ran fake Chinese wedding trips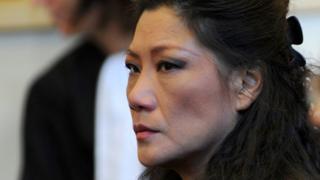 A French former official has been jailed for 30 months for corruption over fake Chinese wedding trips.
Lise Han organised for Chinese couples to renew their wedding vows against romantic backdrops in the Loire Valley.
The trial took place after Jean Germain, a former Tours mayor and close ally of President Francois Hollande who was also accused in the case, committed suicide.
He shot himself just before the trial was due to begin last April.
The scheme did not offer real wedding ceremonies, but hundreds of Chinese couples travelled long distances and paid large sums to be photographed in wedding attire in attractive locations.
Han claimed to have resigned but was accused of running the company on the side between 2007 and 2011 while working at the City Hall in Tours on tourism issues.
Meanwhile Tours City Hall was subcontracting the work to the company, leading to big profits.
Han was found guilty of fraud and mishandling public funds by a court in Tours. Her husband was also convicted along with two other former city officials.
The court also ordered them to compensate the city of Tours to the sum of €500,000 ($550,000, £340,000) and pay €30,000 in damages.