Mont Blanc avalanche in France kills two Lithuanian climbers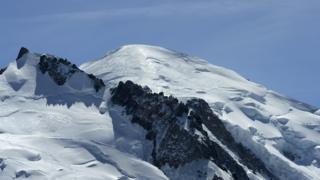 An avalanche near Mont Blanc in the French Alps has killed two Lithuanian climbers after heavy snowfall.
Mont Blanc is the highest mountain in the Alps. The avalanche began 3,200m (10,560ft) up; a man and a woman died.
A third Lithuanian climber survived the avalanche unhurt. It happened in Grands Montets, a ski area above Argentiere. Grands Montets is among several peaks in the Mont Blanc range.
It was the first fatal avalanche in the French Alps this winter.
The fresh snow has increased the avalanche risk.